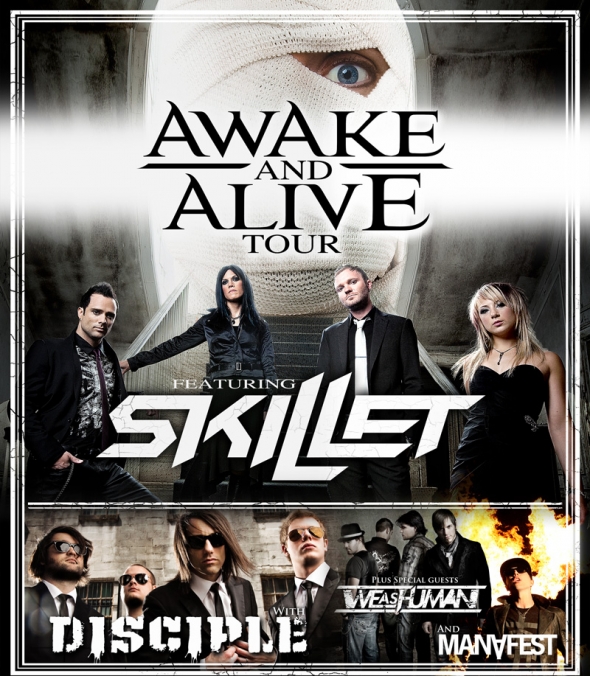 It's been 99 weeks since SKILLET released AWAKE, and now the band has garnered their third consecutive Gold certified single with "Awake & Alive".
That said, this fall we will headline headline the Awake & Alive Tour with Disciple and special guests Tooth & Nail rockers Manafest and Atlantic Records' labelmates We As Human.
The Skillet fan club pre-sale begins Tuesday, Aug 9th and the national on-sale starts Saturday, Aug 13th all on Skillet's official site.
Awake & Alive Tour - (all dates subject to change)
10/13/11 Wicomico Arena - Salisbury, MD
10/15/11 Phillips Center - University of Florida Gainesville, FL
10/16/11 Germain Arena - Estero, FL
10/18/11 Murray State University - Murray, KY
10/20/11 Wesbanco Arena - Wheeling, WV
10/22/11 Cullman Fair Ground - Cullman, AL
10/23/11 The Forum - Rome, GA
10/25/11 Oakley Lindsay Center - Quincy, IL
10/27/11 Hope Presbyterian - Cordova, TN
10/29/11 Arkansas State University - Mountain Home, AR
10/30/11 Emens Auditorium - Muncie, IN
11/2/11 Sanford Center - Bemidji, MN
11/3/11 Winona State University - Winona, MN
11/4/11 Quant Field House at University of Wisconsin - Stevens Point, WI
11/5/11 Kimberly High School (Power of One Festival) - Kimberly, WI
11/6/11 Coronado Performing Arts Center - Rockford, IL